CO2 reductions and fuel savings with low leakage valves
Thursday, July 8, 2021
Find
brochure about Ultra Low Leakage
Energy efficiency and reduction of emissions are two top priorities for most shipowners. Both requirements can be met by replacing the 3-way valves for the main engine with valves from BROEN Clorius Controls with a lower leakage over the HT FW cooler which will save fuel used to reheat the HT water.
Green Ship of the Future
, a partnership of leading players in the maritime industry, have made a case study of three different vessels that underlines how easy it is to reduce CO2 emissions and energy consumption by retrofitting. 
In the
report
they point out how small changes can create remarkable results for the shipowner, in particular when the ship is at anchor (idle mode) where the engine is shut down, but kept heated, ready for operation. 
Control valves with 0,5-3% leak is pretty normal in many vessels but what if you could change that to only 0,01%?
Calculate your own savings

Below you can download a tool that will help you calculate your return on investment (ROI) when replacing your current 3-way valves with low internal leakage control valves from BROEN Clorius Controls.

Based on data from your vessel we also calculate savings like energy loss, cost savings and fuel savings.

DOWNLOAD CALCULATION TOOL
Low leakage valve
With electric control valves you can reduce your total cost of ownership and maximize the effectiveness of your vessel by extending operating hours on your engines and better controlling temperature.
Read more about the 3-way linear valve below
 or browse
all our 3-way linear valves
 to find what you need. If you already have a linear valve from BROEN Clorius Controls this can be exchanged to a low leakage valve with exact same installation dimensions at a minimal exchange cost.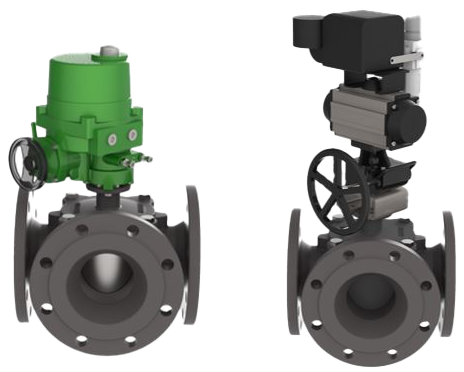 Contact Colorius Controls for more information
ABOUT BROEN CLORIUS CONTROLS
BROEN Clorius Controls is a leading manufacturer of valves, actuators and comprehensive control solutions supporting various marine and industrial applications.
Aside from our exhaustive assortment of control valves and actuators, we provide tailored solutions, including electric, pneumatic, self-acting and internally sensed control systems to meet the specific requirements set by the customers. 
Our products, constructed with premium materials ensure longer life cycle, minimal maintenance and lower cost of ownership. 
Learn more in the product catalogue